A communications platform is only as effective as its reach. Here at Appspace, we strive to help customers extend their messaging needs beyond their infrastructure. In the ever-changing reality of modern life, where remote working is becoming more prevalent for a multitude of reasons, we want to help keep your teams informed and up to date, wherever they work. Here are a few ways in which you can connect with your workforce using the Appspace platform.
Publish to In-Home Devices
Depending on your industry or line of work, your employees may have devices at home that can run Appspace just like you usually would in your office environment. Many remote teams use collaboration endpoints at home, such as Cisco Webex devices. Others have wireless presentation devices (from brands such as Crestron, Mersive, Airtame, and others) that would operate in the same way as your traditional office digital signage — just at home. Publishing to these remote devices can help keep your employees up to date and in the loop with important company announcements, new policies, and procedures, as well as relevant current events.
Publish to Web
Not every remote worker has a collaboration endpoint or wireless presentation devices at home. Due to recent events, the Appspace team has focused efforts on making available a way to publish channels to the web with no need for users to authenticate to view it. From Saturday, 27 March 2020 this will be available to all cloud users.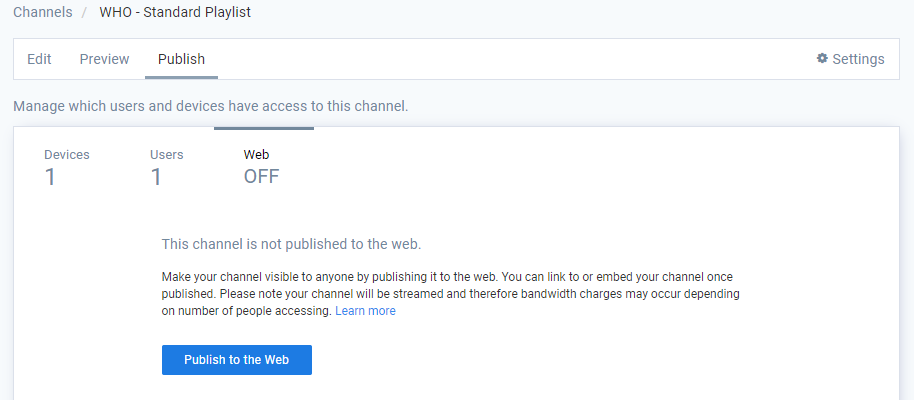 The Publish to Web feature makes your channel available to anyone who can access the URL. Therefore, you can embed the Appspace channel URL into a web page and make it available via an intranet or internal web platform (e.g., Sharepoint). Alternatively, you can send out a channel link via email, text message, WhatsApp, and other messaging platforms.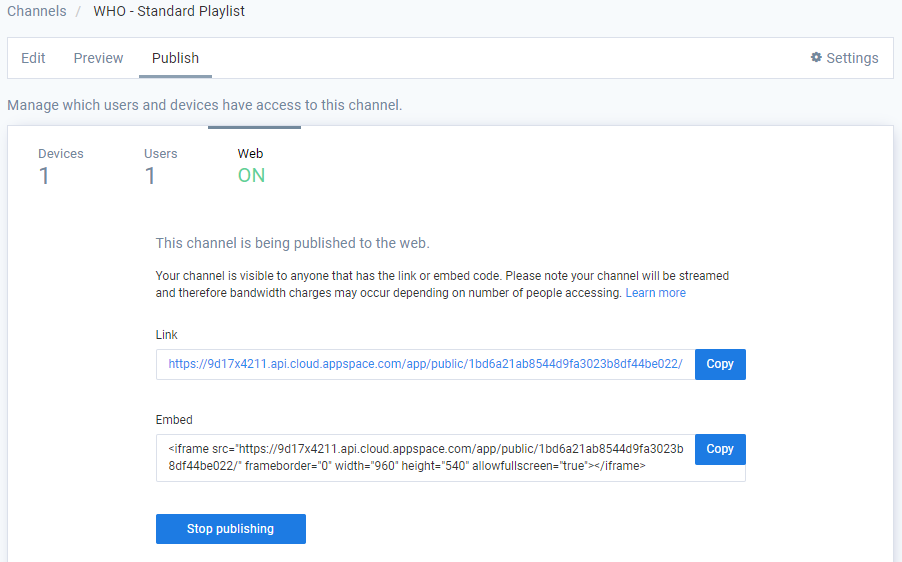 NOTE: By using this feature, your channel will be streamed, therefore bandwidth use will occur depending on the number of people accessing it.
Why Publish Appspace to Remote Workers?
Current worldwide events are impacting how companies communicate with their employees. It's likely that due to the COVID-19 pandemic, your teams are working remotely for the duration of this situation. Many teams are not used to being away from the office. Utilizing Appspace to enhance your workplace communications while employees go through this transition can be beneficial in several ways. If you're a current Appspace customer, your team is used to seeing Appspace content daily. Publishing the same content your employees' in-home devices or to the web can give them a sense of normality as they work remotely. For employees that are always working remotely, this small step can help them feel included in the day-to-day office culture and enables you to ensure that everyone can access important information.
Also, we've also created a few channels that you may find useful currently loaded in our Channel Gallery. Considering current events, namely the COVID-19 pandemic, there is a lot of information that you may need to share with your teams. In our channel gallery, you'll find content that can help you educate your teams on the latest updates regarding the pandemic from trusted sources as well as templates to help you communicate important internal updates and prevention tips. You can import into your Appspace account today, and the information found currently on the included cards will be updated automatically when appropriate.
For more questions about publishing to remote endpoints or publishing Appspace channels to the web, reach out to your Customer Success Manager or contact us here.