In the latest version of the Appspace content management platform we've focused on content library enhancements and bug fixes.
UNDER NEW MANAGEMENT
Say hello to a new content management workflow that simplifies uploading content and creating a card. Content authors will also see significant improvements to the card creation process with design, tags, and expiry options all part of one seamless process.
Another great enhancement is the ability to copy content between libraries. Back in 6.0 we introduced the ability for a user to be part of multiple user groups, and for a user group to have a private content library. You asked us when you could duplicate files from one user group library to another, and we're happy to say it's here.
A minor improvement, based on your feedback, is the account level library (the one everyone can see). It has been renamed (Common Library) and reorganized to the bottom of the available libraries panel. This means your user group libraries take priority.
CARD ENHANCEMENTS
Brand owners and authors get a whole host of new toys in this update. You'll find that the Announcement card template now supports video (.mp4) backgrounds; great for adding eye-catching motion to your cards. Text fields get full rich text editing capability (so you can bold, italic, and underline – among other things – as much as you like).

Also for brand owners, each text field can now force capitalization of text, as well as you can lock the styling options for an author. A great control for maintaining brand consistency.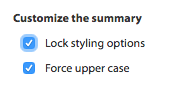 Other card templates see minor optimizations in this release.
BUG FIXES
Finally, our engineers have cleaned up 10 or so little bugs to keep things working the way you expect.
As always, the full release notes can be found on our Knowledge Center, just click here.