Appspace now offers multi-zone channels, allowing you to zone content on your screens. Zoning means assigning separate playlists to different zones on your screens, so multiple types of information can be shown simultaneously. For example, a social media feed can run at the same time as news and sports or weather. To ensure that your screens look great, no matter what multi-zone layout you use, here are the best practices and tips.
Here are a few things to keep in mind when zoning your signage: 
Consider the purpose of your signage, its location, and audience

Plan out your content before getting started by creating the playlists

Just like with any other digital signage message, consider the visual hierarchy: contrast, scale, and position of each message in the layout.

With multiple zones, always identify the primary zone that will feature your main message. Usually, it will be the largest zone in the layout.

Pay attention to font sizes, especially when utilizing 3+ zone layouts. Appspace cards are responsive and will scale to the zone they have been assigned to. A text that seemed to be large enough for a full-screen message, may become unreadable in a smaller zone. Conversely, a bold header may become too large for the card.

Size your media assets (images) to the dimensions indicated for the zone. For video messages use the Uniform Fill ratio, to avoid distortion.

Avoid using live feeds and videos in multiple zones as it can hurt performance 
Here are some of the most popular use cases for multi-zone channels:
Main+Banner.
Use the Banner card to display your company's logo and tagline.
Main+Split Sidebar+Banner.
Use this layout to combine company communications (Main Zone), like recognition, company news, and stats with essential information, like weather, news, sports, or stocks (Top Sidebar). Use the banner for your company branding displaying the company logo and tagline. Use the Bottom Sidebar zone for simple text messages, social media feed, or motivate and inspire your audiences with Appspace's new Quotes Feed card.
Main+Split Sidebar
Use the two sidebar zones for supplemental messages and focus the audience's attention on the main zone. Social cards, Counter or Data cards will help you engage your audience with important company news and stats. 
Main+Quadrants.
This layout works great for dashboards and visualizing data. Coordinate the colors and timing to keep your audience's focus and avoid confusion.
Device Compatibility 
To ensure you have the best output on your screens, multi-zone layouts work best with the following reference devices: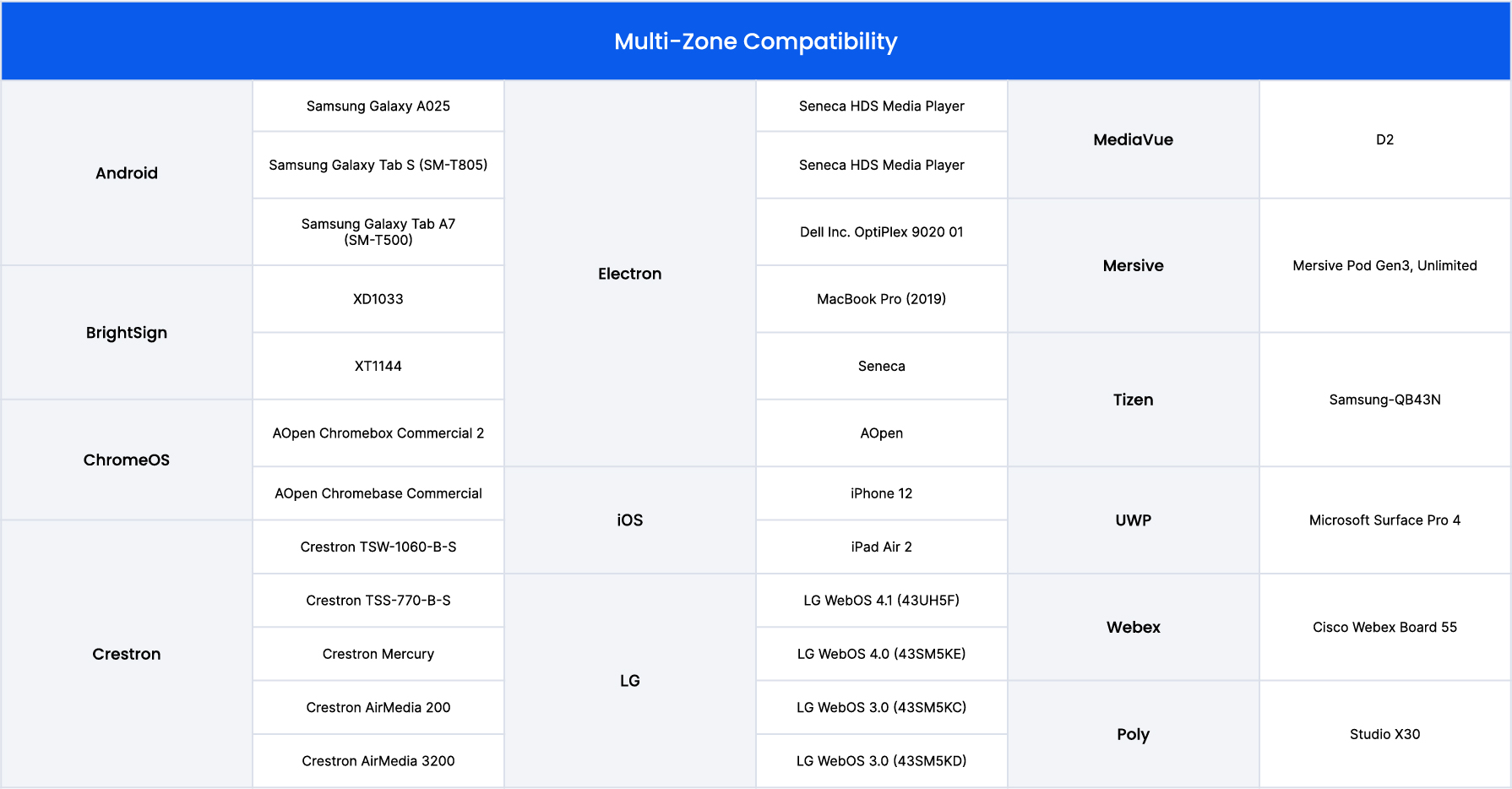 To get started, log-in to the console, create your channel, name your channel and select your desired layout from the drop-down list of Device App Templates. From there, click into each zone by selecting the plus sign and add content just as you always would. Or you can also choose your layout in the settings.