As Unified Communications lead for LinkedIn, Rodney Pruitt understands the importance of standardization. He knows first hand how critical it was to have simple and scalable workflows, brand consistency, and device management when deploying nearly 400 media players for digital signage, interactive kiosks, and video walls. He took a little time last week to tell us more about it.
Hi Rodney, good to see you. I know implementing company standards was a primary driver for you, tell us a little more.
You're correct, it was very important. The solution we needed is one that I'm sure many organizations need today; a single platform that makes it easy for several teams to centrally manage their information and simultaneously have all the brand controls in place to standardize the onscreen experience. On top of this, we needed the solution to also handle the rapid expansion we were undergoing.
Prior to Appspace, which we combined with the AOPEN Chromebox Commercial and Chrome Device Management, we had no central gateway to govern our information or maintain brand standards, our content updates and media player deployments were time-consuming, and we had no real knowledge of current status across our offices.
Thankfully, that's all now solved.
That's definitely a challenge that we hear a lot. How has the experience of using Appspace been?
The fact that it's a single platform and the full toolset is available through a standard web browser is great. We were able to onboard our team, designate roles and permissions and get greater control of our deployment in no time at all. Our communications team were able to define and enforce brand standards with minimal effort, and all of this was across the use cases we required: digital signage, kiosks, and video walls.
With that in hand, we standardized how we deployed information. We configured Appspace to suit us and our corporate communications team can now share new information in just a few clicks and is automatically combined with local communications to provide a customized channel experience for each office. Our departments use it to quickly and effectively communicate events, changes, policies, and business critical issues to the right LinkedIn teams.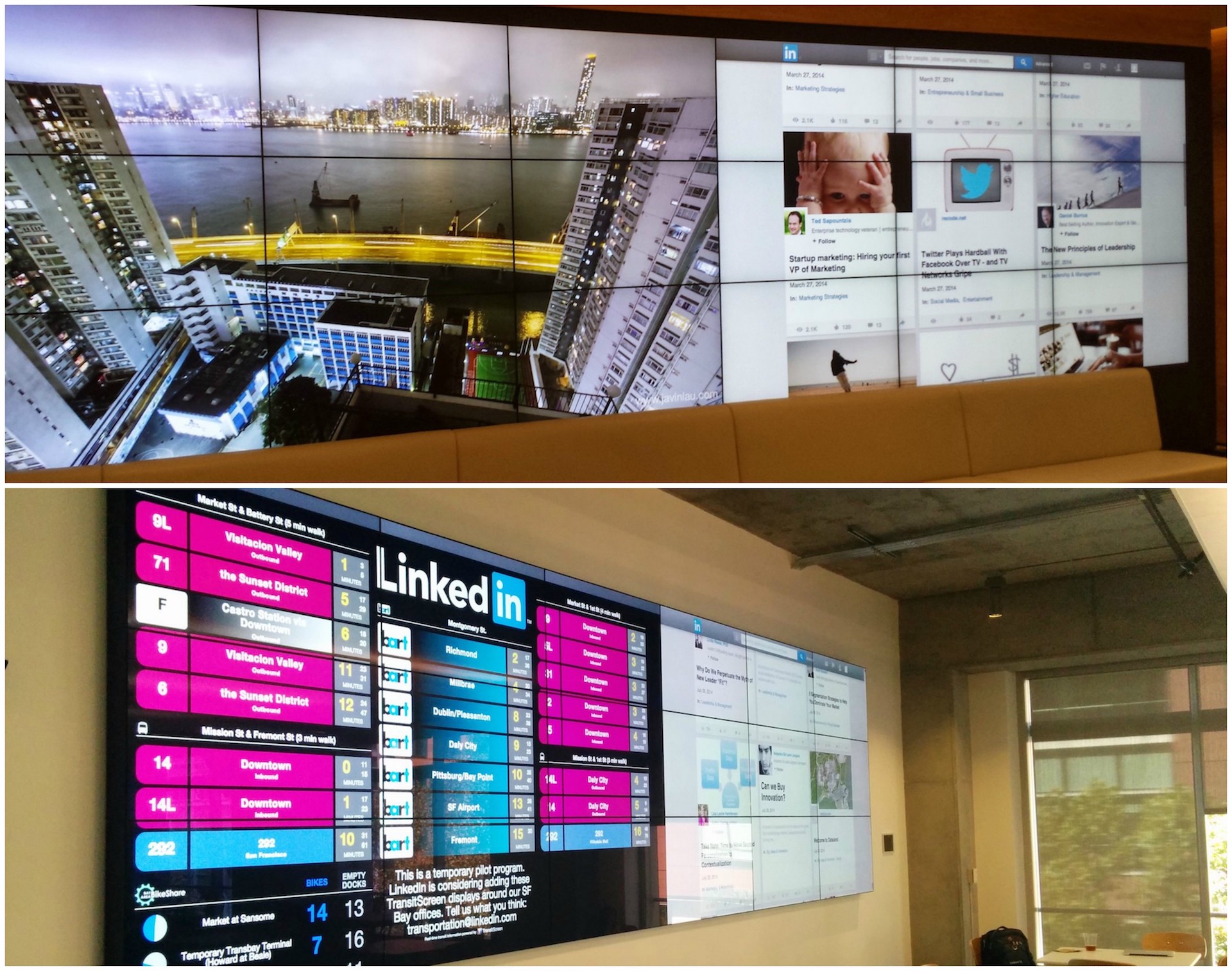 That's great news, and I hear you'll be putting Appspace to good use on more things in the near future?
Yes, we're already using it for so many things but we're looking closely at how we can make our information sharing processes more automated using API's and cards. After all, the quicker we can get the right information to screen the better.
But, we're also very excited about the new mobile capability, which we hope will allow us to extend information beyond our offices and investigate using new devices, and we're also continuing to explore a greater use of live streaming and interactive kiosks.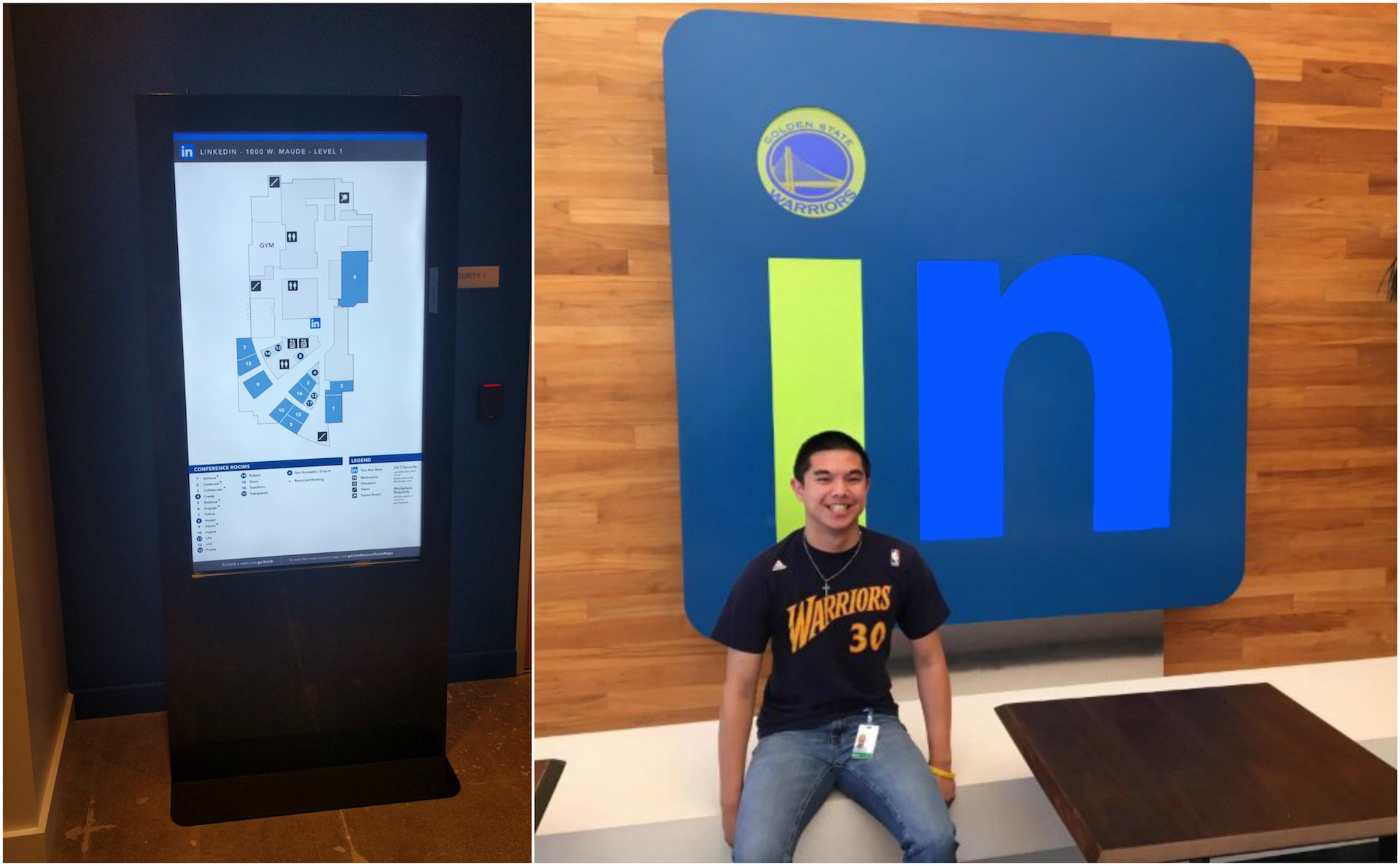 That's a lot of great stuff, and we're really looking forward to seeing how it turns out. Thanks for joining us today.
Anytime, it was my pleasure.
About LinkedIn
LinkedIn operates the world's largest online professional network with more than 500 million members in over 200 countries and territories. LinkedIn has more than 10,000 full-time employees with offices in 30 cities around the world. Their global headquarters are in Sunnyvale, California, with EMEA headquarters in Dublin and APAC headquarters in Singapore. LinkedIn also offices in Chicago, Los Angeles, New York, Omaha, San Francisco, Sunnyvale and Washington D.C., Amsterdam, Bangalore, Beijing, Dubai, Dublin, Graz, Hong Kong, London, Madrid, Melbourne, Milan, Mumbai, Munich, New Delhi, Paris, Perth, São Paulo, Shanghai, Singapore, Stockholm, Sydney, Tokyo and Toronto.